Two children were killed and 30 civilians were injured on Saturday as a result of the clashes and artillery shelling between the movements of "Nur al-Din Zanki" and "Liberation of the Sham" in the countryside of Aleppo. The clashes between the two factions near the large town of Urm has killed two children and wounding three civilians from one family, because of the fall of an artillery shell on their house. Many civilians were wounded in the city of Dara Azza, some of them are in critical condition as a result of continuing confrontations in the city and its surroundings.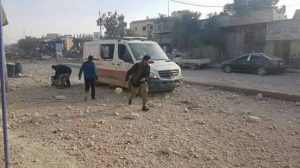 The countryside of western Aleppo witnessed tension between the two factions "Liberation of the Sham" and "Zanki" about ten days ago. They were accusing each other for the arrest of their men and the confiscation of their weapons. A group of elders and tribesmen has been called for a cease-fire initiative, but the situation is tense between the two sides. It was agreed to a cease-fire since last night on Sunday at 9 pm on 12 November. 
The death toll has risen to 50, including members of the Free Police and a number of paramedics, and more than 60 wounded. Some citizens are still missing and there are six unidentified bodies.