The Olympic flag surrounded by flags from various countries that are competing in the Winter Olympics, wave in the wind in front of the Olympic Stadium in Pyeongchang, South Korea. The athletes of the 2018 Winter Olympics marched into the Pyeongchang Olympic Stadium amid roaring applause and cheers.
Russia's national Olympic committee was barred from the 2018 Winter Olympics as punishment for its alleged state-sponsored coverup of doping by its athletes. But some individual Russian athletes will be allowed to participate in the games by competing under a neutral Olympic flag.
North and South Korea were last to enter the stadium. The teams marched together behind a "Unification flags" carried by an athlete from each country, according to the International Olympic Committee. The symbolism of the flag depicts a united Korean peninsula in a soft pastel blue against an expansive white background a color motif that suggests peace and hope, and is most famously featured in the flag of the United Nations.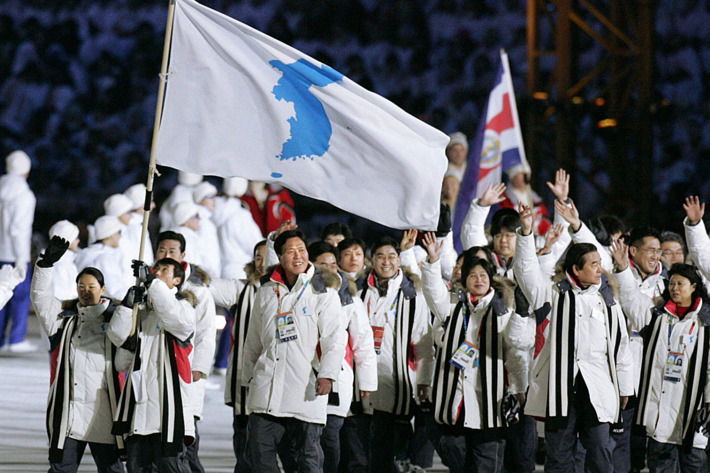 At these games, the flag represents Seoul's hope for mending long-curdled relations with the Pyongyang. Kim Yo Jong, sister of NorthKorean leader Kim Jong Un, was at the opening ceremony with North Korea's nominal head of state, 90-year-old Kim Yong Nam. Kim Yo Jong shook hands with South Korean President Moon Jaein at the opening ceremony at PyeongChang Olympic Stadium. They are part of an extraordinary diplomatic push by the North aimed at using the Olympics to ease tensions with Seoul and bolster unity between the two Koreas after a year that has been marked by escalating fears of war and increasing angry rhetoric between Pyongyang and Washington. "Reconciliation is always possible, even in the darkest of times. Images from Pyeongchang tell us to keep hoping and working for peace" sayd Federica Maria Mogherini, High Representative of the European Union for Foreign Affairs and Security Policy.
The flag's message, however, has drawn the ire of South Korean conservatives, who have criticized it for undermining South Korea's big moment as host to the Olympics. In displays of protest, far-right conservative groups have burned the North Korean flag and a photograph of North Korean leader Kim Jong Un. "The more and more we move to younger generations, the idea that we are one people is disappearing," said Hong Woo Taek, a senior researcher at government think tank Korea Institute for National Unification.
Anyway the sport is ideally positioned to contribute towards the United Nations' objectives for development and peace. The United Nations Office on Sport for Development and Peace (UNOSDP) provides the entry point to the United Nations system with regard to Sport for Development and Peace, bringing the worlds of sport and development closer together.
"The Sport has become a world language, a common denominator that breaks down all the walls, all the barriers. It is a worldwide industry whose practices can have widespread impact. Most of all, it is a powerful tool for progress and for development", Ban Ki-moon, UN Secretary-General sayd.
Around the world, many highly motivated youth work tirelessly to support their communities through Sport for Development and Peace (UNOSDP Youth Leadership Programme) projects. Most of these youth have only very basic education levels, limited resources with which to carry out their projects and do not have a proper forum where they can learn best practices or develop their leadership skills.

Sport has proven to be a cost-effective and flexible tool in promoting peace and development objectives. In the Declaration of the 2030 Agenda for Sustainable Development sport's role for social progress is further acknowledged. Sport is an important enabler of sustainable development, peace and promotion of tolerance and respect. Sport makes empowerment of women and of young people, individuals and communities as well as to health, education and social inclusion objectives.