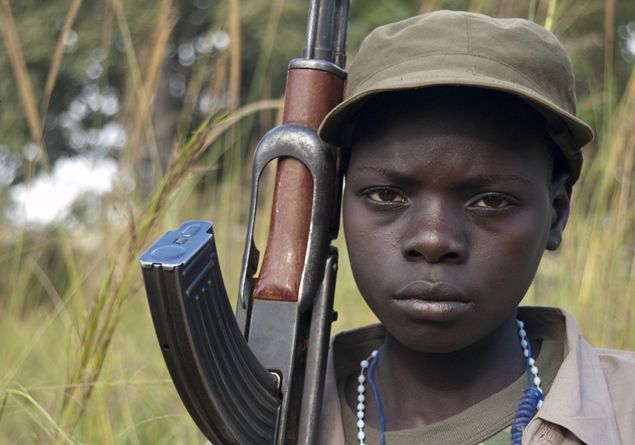 Today, in a Damascus police station. A child, 7 year old, was used as suicide bombers. She wore a belt with an explosive charge. The Syrian government agency "Sana" writes. The terrorists let the child in a police station in the Midan district and used the remote device. The babe and two policemen died in the explosion.
Last Sunday two suicide bombers girls, aged only 7 and 8 years old (according to different press sources), blew themselves up in an area near a crowded market in the northern Nigerian city of Maiduguri. A spokesperson for the emergency management agency, Sani Datti, reported that the attack was organised by Islamist group Boko Haram, pro-Al-Qaeda and pro ISIS.
Last month a video was published where children shout in unison – Allahu Akbar (God is great), before shooting the prisoners. Their names: Yousouf Al-Ozbaki, Abu Fuad Al-Kurdi, Abu Ishaq al-Masri and Abu Abdalla Al-Britani, one of them is the son of a British jihadist. It is the first mass execution carried out by children, known as ISIS younglings. We do not know the exact number of children used as soldiers by the Islamic state. German magazine "Der Spiegel" states that there are about 1,500 children.
According to Farah Dakhlallah,spokesperson for UNICEF, the recruitment of children has increased throughout the whole Middle East, where these kids are used in crossfires and suicide attacks.The use of child soldiers and suicide bombers is a phenomenon rooted mainly in Asia, in the context of local terrorist organizations linked to political rather than religious matters. Islamic extremism has copied a lot from these phenomena, especially from parastatal organization LTTE, the Liberation Tigers of Tamil Eelam in Sri Lanka.
Today underage kids take up weapons and shoot in Burma, Chad, Democratic Republic of Congo, Somalia, Sudan, Uganda and Yemen. In South America, since the 1990s, children have been employed in Colombia, Ecuador, El Salvador, Guatemala, Mexico, Nicaragua, Paraguay and Peru. But it's the Islamic Jihad that is currently most exploiting the lives of innocent children. This tactic has proven effective to organize attacks in crowded places through unsuspected children who are not perceived as a threat. In West Africa is Boko Haram – affiliated to the Islamic State – that implements this strategy. In Afghanistan, the Talibans have long used children for their murderous purposes. Even in Iraq and Syria, lately, the Islamic militia were forcefully levying children from the cities to indoctrinate them in schools and training camps.
"Adolescents are easier to recruit, especially in times of distress or despair after losing parents or siblings at war," said Hisham al-Hashim, an Iraqi government adviser. From what emerges from the report conducted by the UN international investigation commission headed by Brazilian professor Paulo Pinheiro, children as young as 10 years old were recruited and trained in camps that are under the control of the Islamic State in Raqqa and Iraq with the aim of turning them into militias or kamikaze. Of the 89 suicide attacks committed by minors, in fact, at least a dozen of these were between 8 and 9 years old: the ISIS younglings. Children in these terrorist attacks are shipped to markets or other crowded places and then the explosive is operated remotely.
According to the UN report, in the capital of the Islamic State in Syria – Raqqa, every Friday true and false executions, amputations, flogging and crucifixions are carried out with the purpose of having the children attending in order to get them used to violence and cruelty and to consider it normal. In addition, the Nusra Front and Isis, is reported on the documents, have targeted children through educational programs, including military training courses. Former teenage fighters encourage these young people to apply for risky military actions and suicide bombings. Among the most active jihadi organizations in this field is al-Qaeda in the Islamic Maghreb, whose bases are located in Algeria.To involve children in this spiral of violence, thus destroying their future, is the tragedy within the tragedy.
The responsibility for all this, however, is also ours, Westerners, who are doing nothing to stop this slaughter of innocents. The reasons are several, including strategic, geopolitical and energy – related ones, but we are simply not realizing that we are conceding the necessary time to make it that more and more suicides automatons are created, and hundreds of them will invade our Europe to sow terror for many years to come, well after the fall of the Islamic state.