Conference explores human rights and journalism If Friday's session "Human Rights and Journalism" proved nothing else, it confirmed the deficits among media both here and abroad, particularly when it comes to reporting women and minority groups.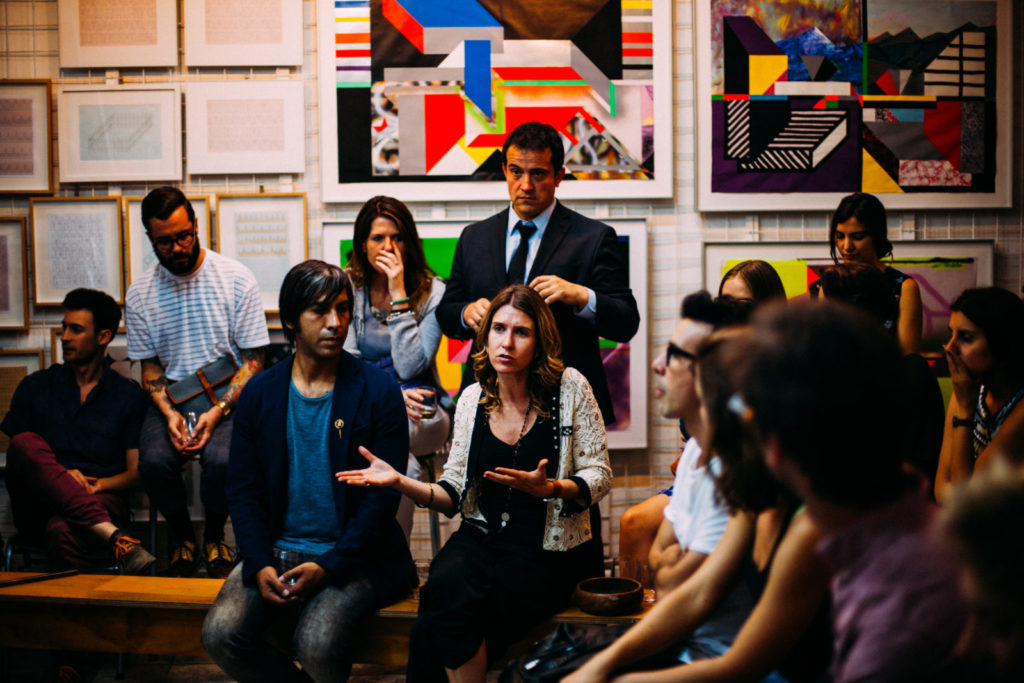 The Friday discussion was part of the three-day Greater Kansas City Peacebuilding Conference. The theme this year was "Human Rights: The Foundation of Peacebuilding."

Sarah Margon from the Open Society Foundation, formerly of Human Rights Watch, led off the day by discussing why journalism matters to human rights organizations, and vice-versa. She said journalism is essential for figuring out what governments are doing, and to push for needed change. Margon noted that journalism matters to human rights organizations since journalism is a "force-multiplier" that can help set the agenda and maintain pressure for change. She cited the ongoing media pressure regarding the Jamal Khasoggi murder and the violence against the Rohingya in Myanmar as examples of beneficial media spotlights.

Lewis Diuguid; Bette Tate-Beaver at Park Univ.
Lewis Diuguid, author, lecturer, and journalist, and Bette Tate-Beaver, executive director of the National Association of Multicultural Education, continued the discussion by looking at media's role in "continuing oppression" in society. Diuguid presented information about the functions of media, then discussed how these functions (surveillance, correlation, transmission, entertainment, economic) make some minority groups (Asians, Native Americans) invisible, while relegating other minorities (African Americans, Latinos) to ne'er-do-well status–those who need to be watched closely (surveillance).

Journalist and syndicated columnist Mary Sanchez then discussed the importance of diverse newsrooms, noting that you "have to have connections to tell real stories" inside the Latino community. She said that she's used Human Rights Watch for years as a reliable source of data. Sanchez also explored the fine line between journalist and activist.

The session ended with a call from Northern Ireland featuring veteran journalist and officer for the National Union of Journalists Kathryn Johnston. She decried journalism that re-victimizes those who have been traumatized—reporting that "strips people of their humanity." She noted that women have been excluded from peace processes and newsrooms in Northern Ireland, to the detriment of both, and that her community overall has been desensitized to violence. When asked about Brexit, Johnston discussed the impact of a hard border. She said that this possibility has already led to violent threats. She said that if the hard border is established, she "fears" it will lead to a resumption of violence.
Overall, the presenters agreed that traditional media narratives often ignore or stereotype women and minority communities, and that the link between human rights and journalism is important if the potential of society is to be realized.

The Greater Kansas City Peacebuilding Conference began on Thursday, Oct. 31 at Avila University with a presentation by Rwandan peace activist Felix Manzi. The event concluded on Saturday, Nov. 2 at Johnson County Community College (JCCC) with a keynote from Sarah Margon, a panel discussion about the ongoing human rights challenges in Kansas City, and break-out sessions on gender and sexual orientation, human rights in conflict, global migration, and servitude and slavery.
The annual event was sponsored by the Center for Global Peace Journalism at Park University, JCCC, Avila University, and the International Relations Council.