Catalonia accounts for about 16 percent of the Spain's population, and more than 20 percent of gross domestic product. About a quarter of Spanish exports are Catalan products. The region accounts for a fifth of Spain's economy producing 25% of the country's exports. It contributes in taxes for 21% of the country's total. Catalonia has its own regional government with powers over healthcare, education.
Catalans have their own language and tn the past thay had strong anarchist, socialist and communist movements that all fought against General Francisco Franco. Franco repressed Catalonia's autonomy and expressions of Catalan language and culture.. The current dispute goes back to that conflict.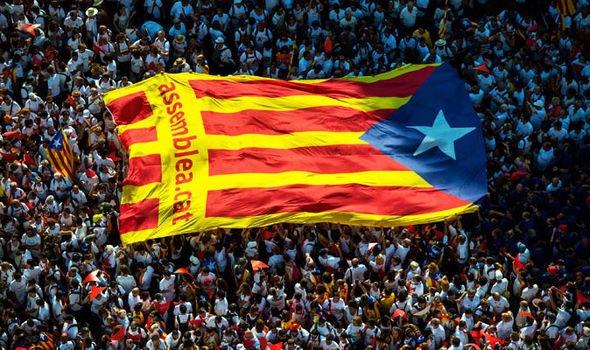 In 2006, the Spanish government backed Catalonia's calls for greater powers, granting "nation" status but four years later, the Constitutional Court rescinded that status. In a symbolic poll in 2014, 80% of Catalan voters backed complete secession but only 32% of the electorate turned out. Puigdemont, current president of Generalitat de Catalunya, declared a new referendum on October 1, 2017. Despite the Spanish authorities' efforts to stop the referendum, 2.3 million of Catalonia's 5.3 million registered voters took part. A full count of the votes has been complicated by the fact that police removed many ballot boxes from polling stations and Spain's constitutional court judged that the vote broke Spanish law. That's why Rajoy, Spanish prime minister, warned that he was prepared to suspend the region's autonomy. He described the Catalan independence crisis as an issue for Europe as a whole. Spain's King Felipe intervened on the side of Madrid, saying Catalan leaders had acted "outside the law".
Hundreds of thousands of people have taken to the streets of Barcelona calling for unity and talks between Rajoy and Puigdemont and to protest against the Catalan government's decision to push for independence. Several major banks and a number of other companies announced they would move their head offices to other parts of Spain, threatening stability in the country's most economically productive region. Puigdemont, Catalan leader, was under pressure to back down after the EU supported Spain and its prime minister Mariano Rajoy.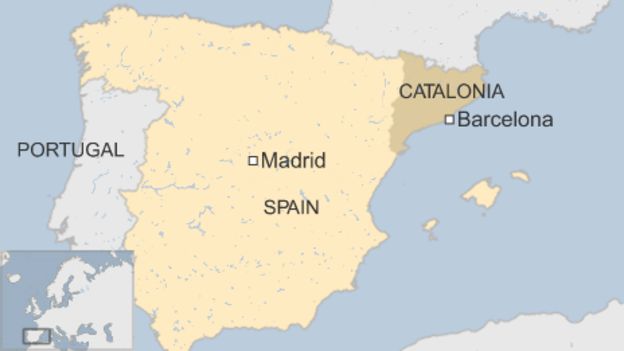 So Puidgemont has pulled back from the brink of a full-blown unilateral declaration of independence to allow for dialogue and talks with Madrid. In his speech he, however, pointed out that the Spanish region would become an independent republic after a referendum vote that was marred by police violence. But Rajoy told El País: "The prime minister of an advanced, democratic country can't negotiate with someone who flouts the law. Instead of managing the Catalonia crisis well, Spain's central government is providing still a demonstration of what not to do.
The heavy-handed response to the region's desire for greater self-determination has empowered, and not weakened, the separatists. Political debate in Spain is of major geopolitical importance to Europe. But unfortunately, there can surely be no doubts regarding the geopolitical importance also to USA. UK and Russia of the Catalan Referendum. Activists from the United States, Britain have promoted messages from far-right leaders, thay are skeptical of the European Union. In recent weeks, according to an analysis of recent online activity, Russian state-backed news organizations and automated social network accounts have aggressively promoted digital misinformation and outright fake news about the Catalan vote. These online activities are intended to cast doubt over Europe's democratic processes at a time of heightened tensions between the EU and Russia, experts warn. From the French, German and Spain elections to votes coming soon in Italy and the Czech Republic Russian-backed online networks have routinely championed extremist groups through social media and digital news outlets: European Union is is under attack.
Unfortunately in past days the requirements have not been carried out for a reciprocal dialogue, therefore Catalonia's declaration of independence from Spain passed by the Catalan parliament on 27 October. Catalonia's nationalist leaders are well aware their project is fragile, so Madrid has invoked article 155 of the Spanish constitution, which allows it direct rule over a regional government. But the Spain government is afraid of having to act forcefully. Madrid knows this risk and that's why prime minister Mariano Rajoy has decided to called a snap regional election on 21 December. Therefore, about indipendentist issue it is of paramount importance the active participation of a group of European mediators. Catalan and Spanish officials will need to sit at the bargaining table with an open mind and without preconditions. That is very important to the stability of Europe as a whole.