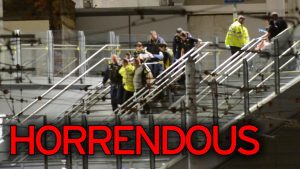 President Donald Trump on Tuesday called out the "evil losers" who he said were behind a massive explosion that brought "death to innocent young people" who were attending a pop concert in Manchester, England last night.
"So many young, beautiful, innocent people living and enjoying their lives murdered by evil losers in life," President Trump said early Tuesday morning, speaking just hours after a suspected terrorist attacker carried out a deadly explosion at an Ariana Grande concert, killing 22 people and injuring 59 others on Monday night.
"I won't call them monsters because they'd like that term. They'd think that's a great name," he added.
The comments were the president's first on the bombing at the Manchester Arena, one of Europe's largest indoor arenas. White House Press Secretary Sean Spicer said earlier that Trump has been receiving updates from his national security team on the situation through the morning.
"I would like to extend my condolences to those so terribly injured in this terrorist attack, to the many killed and the families, so many families of the victims," Trump said. "We stand in absolute solidarity with people of the United Kingdom."
The remarks came as Trump met with Palestinian President Abbas in Bethlehem, where the two are expected to discuss a possible peace deal in the Middle East.
"And interesting that our meeting took place on this horrible morning of death to innocent young people," Trump said. "Peace can never take root in an environment where violence is tolerated, funded and even rewarded. We must be resolute in condemning such acts in a single unified voice."
Revisiting remarks from his address to Muslim leaders in Saudi Arabia on Sunday, Trump again called for nations to "drive out" extremists and terrorists from their societies.
"We cannot stand a moment longer for the slaughter of innocent people and in today's attack it was mostly innocent children," Trump said. "The terrorists and extremists and those who give them aid and comfort must be driven out from our society forever. "
Trump is currently in the middle of his first foreign trip as president. He is also scheduled to meet with the European Union and Belgian leaders in Brussels and attend a NATO summit as a part of the eight-day trip.
ABC News' Alexander Mallin contributed to this report.
---
Also published on Medium.